I was catching up with some blogs tonight when I stumbled across an awesome linky by Amanda over at
Teaching Maddeness
.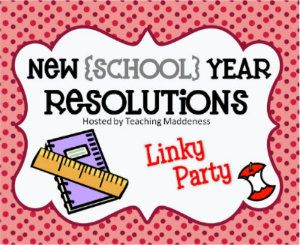 It makes perfect sense to make our resolutions now rather than in January, so here we go.
#1 - Stay organized - I'm lucky to be switching schools because I will start the year off in a completely clean and organized classroom. I intend to keep it this way, including my dreaded teacher's desk. I really need to make one of those teacher toolboxes.
#2 - Embrace change and try new things - New school, new administration, new students equals lots of change. I'm also embarking on a new journey with two whole new teaching 'strategies/systems'. I'm so excited to employ whole brain teaching strategies with my students and also to change up my literacy block with the Daily Five.
#3 Connect and Communicate with Parents - When I first began teaching I felt quite uncomfortable with this aspect of teaching. As time has passed I have begun to feel more at ease with this challenge. I'm also super excited to employ technology to my advantage and use it to help keep parents informed.
#4 - Use my time wisely - I really want to have a balance between home life and work life. I also need to squeeze in some time for my new found blogging life as well. I usually arrive early to school, so I want to make the most of the time before my students arrive each morning. Less gossiping around the Keurig in the staffroom and more planning and preparing.
Do you have any resolutions to share? Be sure to link up and share. Thanks for reading and following,