Wow, I am just sooooo excited!!! I had been planning to join Amy's Tell me More linky party, so I logged into my computer this morning to begin composing my blog post. I decided to quickly check my email first. I won a $50 Amazon gift card from Amanda Madden over at Teaching Maddeness to celebrate her 500 followers milestone!!!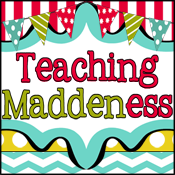 Wow, I was so shocked! Of course I had to log on immediately and start shopping! I had commented on Amanda's blog that I would be purchasing more non-fiction titles for my classroom library because my personal collection is lacking in that area. So I stayed true to my word and bought 7 National Geographic for Kids books! I can't wait for them to arrive. Here's a picture of my titles. (I spent a little over the $50.00 once tax was added on)

Anyways, a huge thank you to Amanda. I cannot wait for these awesome books to arrive!
Now for Amy's awesome
Tell me More
linky party. I've only recently started blogging but I am totally addicted. I love reading everyone's posts. I get so many helpful tips and resources to use in my classroom. But I love this linky because it gives me a little glimpse into the lives of these wonderful bloggers. So here are a few random things about me.
I love everything Disney! I'm slightly obsessed actually. I even read forums about visiting Disney World, even though I don't even have a return trip planned. Two years ago we took our dream trip to Walt Disney World and stayed onsite for eight days! It was a magical trip! I would love to visit the world again, but I would also love to take a Disney Cruise. Maybe I can convince my husband to let me do both, right?
Sundays are family dinner days. Family has always been very important to me. When my Grandmother was alive she held Sunday dinner at her house every week. A normal Sunday usually involved at least 15 dinner guests. If there was a birthday or holiday to celebrate the typical guest roster floated around 30+ people. My mom now hosts Sunday dinners and the crowd is much smaller, but my entire family still gets together for holidays and special occasions at least a few times a year.
I adore Dutch licorice! I don't know many people who even like regular black licorice but I love Dutch licorice, even the 'dubble zout' (double salt) My mother's parents immigrated to Canada from Holland when my mother was just a baby. So my childhood was filled with numerous dutch treats like chocolate sprinkle sandwiches, speculass cookies and olliebollen. But by far my favourite treat has always been salty Dutch licorice.
I recently conquered one of my many addictions. Unless you're Canadian, I don't think you would really understand this addiction. Some say a 'double double' (two cream, two sugar) is the quintessential definition being 'Canadian'. Near the end of the school year I gave up my daily Tim Hortons cup of coffee. Every morning began with dropping Cameron off at daycare and then swinging through the drive thru for my large 'double double'. I still have my morning coffee, I just grab one from my Keurig now. My favourite current flavour is Jamaica me Crazy by Wolfgang Puck.
Anyone have any other favourites they would recommend? Thanks for reading,